For months I have written and submitted essays to
Common Ties
. Today, I got my reward for all the hard work. They bought one of my essays.
Many of the essays and stories I have written and submitted to them have been the product of a lot of hard work and emotional mining. They ignored me. Since they receive so many submissions they don't have the time to respond to everyone. Being ignored is the equivalent of a form rejection. I've been having some difficulty coming up with something to write for their latest topic: weddings. I didn't have anything good to say about them, although I've been in several weddings, designed and made dresses and gowns for weddings, and even appeared in two and the deadline was looming fast. I didn't have anything to say. Imagine that (and no comments from the peanut gallery, please). Tuesday morning I still didn't have anything but I kept freewriting and thinking on paper about what I had to say about weddings. I find it difficult enough to pull out the sad emotions or even be inspirational on purpose, and I couldn't even rely on that. Then something hit me.
Elisabeth Kubler-Ross's five stages of grief. I finally had a hook, time to bait it. And so I wrote and wrote and wrote and edited and wrote. I was late starting work Tuesday morning but I felt what I was writing was more important than earning a paycheck and I could make up the time (and I did until 2 a.m.) I came up with
The Five Stages of Wedding Grief
. Common Ties bought the essay. Then came the fun part, and I don't mean contracts and details.
I have a small keepsake album that turned up in the things I brought back with me from Ohio in February when I went to visit my father. It holds pictures of my first wedding when I was young and innocent. For the first time since I bought it, I used the scanner on my HP 4-in-1 and scanned all the pictures in the album and a few more that I also found in the Ohio things. I won't post all the pictures of the wedding until Common Ties decides which picture they will use to illustrate the essay on Tuesday, July 3rd (did I mention that's the day my words and picture will hit the web?), but I thought you might enjoy seeing some other pictures I found, including one my mother sent me by Priority Mail a couple days ago that's part of a
Xmas card
I made when I was six years old and in the first grade. Yes, I actually wrote what's on the front of the card and, yes, I actually did know how to write in cursive in the
first grade.
I scanned a few other pictures and they are here.
At the ripe old age of five months, just two days after my husband was born.





My parents and me when Dad was stationed at Fort Hayes and before we went to Germany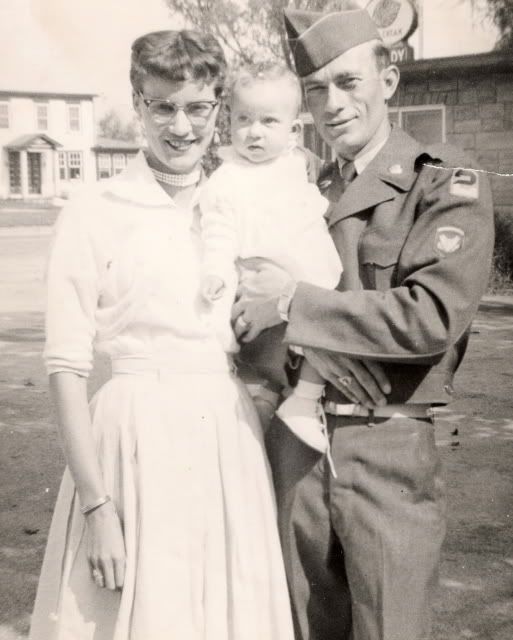 My husband-to-be and me on New Year's Eve 1973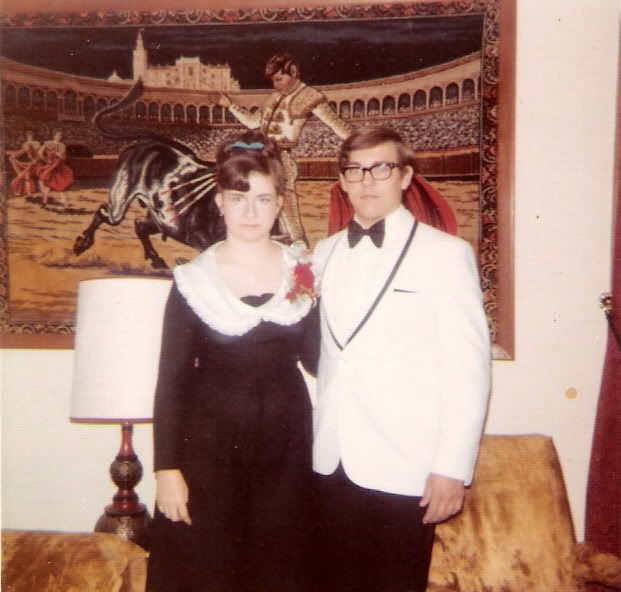 My mother's brother, Bob, and his wife, Lois. I'll bet they don't remember being quite so young.




Beanie and my groom's sister, Jenny. Beanie is eight years old and taking her duties very seriously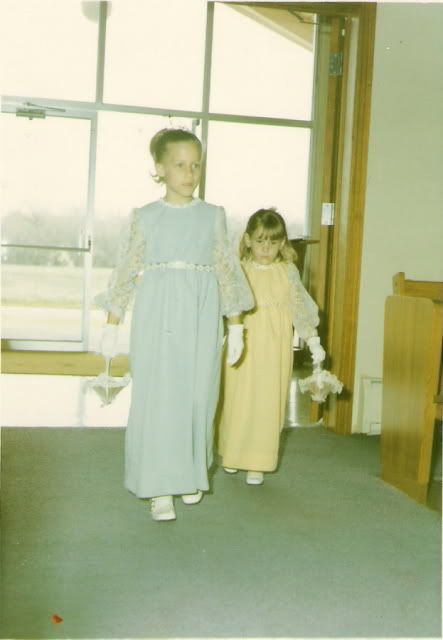 My maid of honor and sister, Carol. I wanted my best friend, Connie, to be my maid of honor, but I lost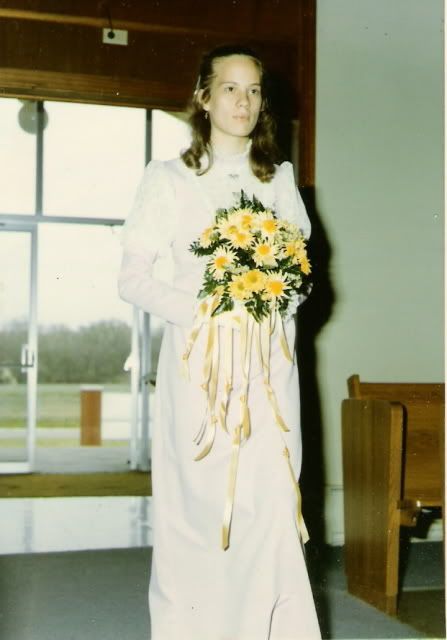 The bride




Bridesmaids and flower girls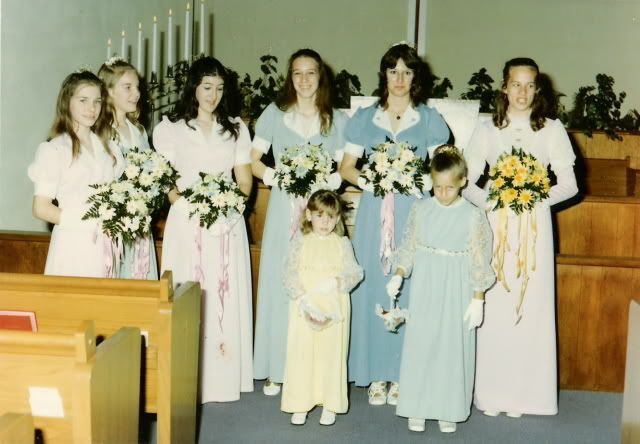 The grandparents




The Hatfields & McCoys Cornwells & Woodards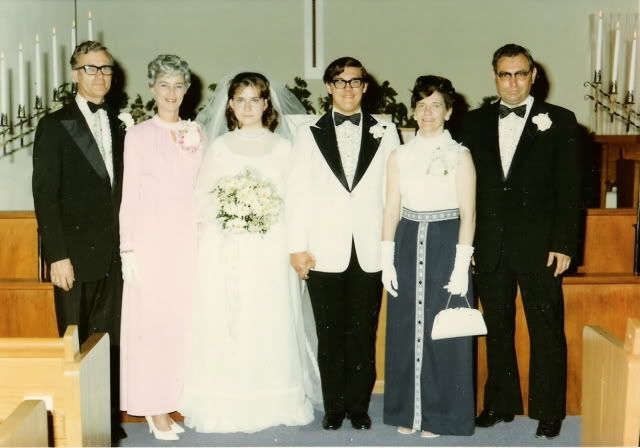 The getaway vehicle. It's not the car the wedding party and assorted pranksters decorated, just the one they nearly tipped over with us in it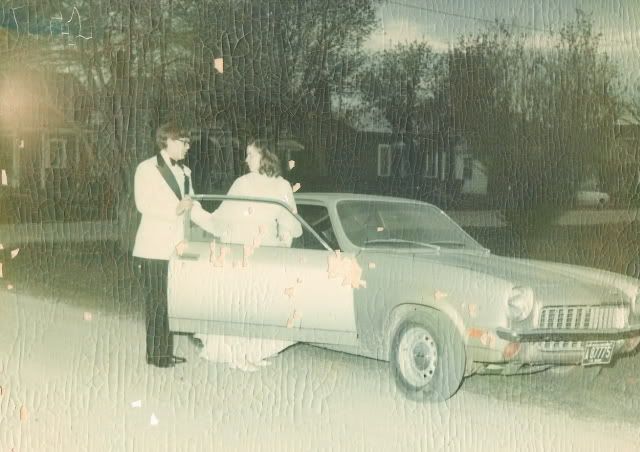 Yes, I'm excited, more so than you can imagine. Common Ties is a hard market to crack but I cracked it and I'm getting paid for my work. It was interesting calling my ex-husband. His wife was home, but he wasn't so I left a message. I need to get his permission to use his name or I have to use a pseudonym, something I don't want to do, even though I do have one (or two).
Sometimes it's a matter of hard work and editing and struggle to get published and sometimes, at the very last moment, something clicks and magic happens. The thing about magic is that it happens more often when hard work and editing and struggle come first. Writer's block happens, but there are ways to get past the block even if you have to tunnel around and through or just simply take another route. The trick is to keep writing even if it seems like pointless gibberish because out of the dross and dirt will shine diamonds and pearls that sparkle and gleam with magic. The words are there. All you have to do to break the barrier is never give up looking for them.
That is all. Disperse.